Picking up where we left off with the last post. Here are the next 10 players in our top 25 rankings!
Note: Stories trimmed down for this piece. For more details, check for the podcast episode.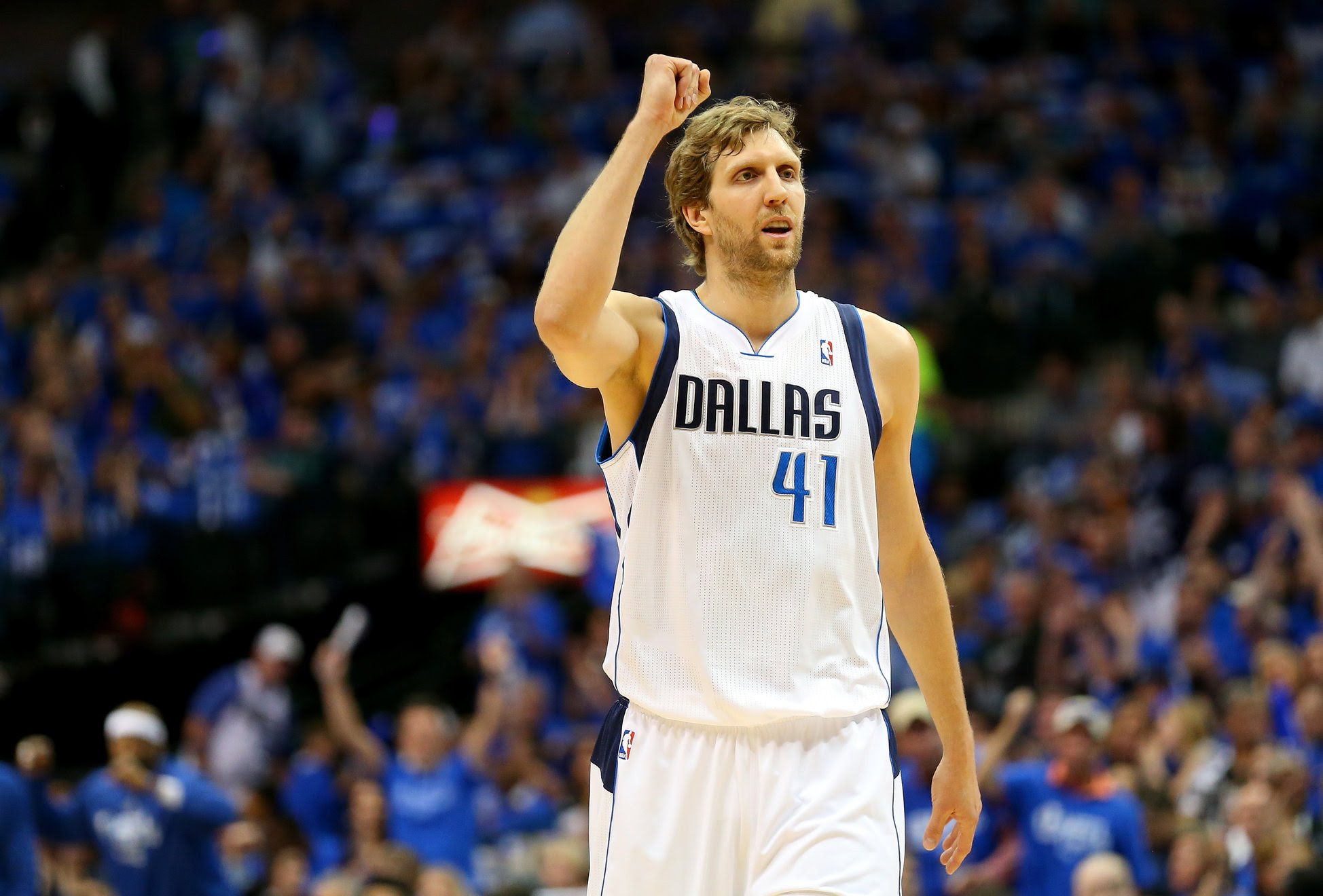 20. Dirk Nowitzki
GOAT Points: 414
Nicknames: Dirty, the Tall baller from the G
Height/Position: PF
Hometown: Wurzburg, Germany
College: None
Playing years: 1998-2019
Currently: Retired, living in the Dallas area
Teams: Dallas Mavericks
Accolades: 14 time All-Star, 4 All-NBA 1st, 5 All-NBA 2nd, 3 All-NBA 3rd, 2007 MVP, 2011 Finals MVP
Bibs accolades: Finals Runner-Up MVP in 2006
Rings: 2011 with the Mavericks
Claim to fame?: The true birth of the stretch big. Trademark 1 legged fadeaway which Lebron quipped was the second most unstoppable shot of all time in 2011. Name is synonymous with loyalty to a franchise.
Story: After a heartbreaking Finals loss in 2006, Dirk came back the next season and joined the 50-40-90 club. He won the MVP, and went into the playoffs as the 1 seed for the first time. They faced the Wa- do I really need to say what happened in 2007.
Nowitzki would not get back to the Finals until 2011 on a magical run that had him lead his team past the defending champions, a rising duo of Westbrook and Durant, as well as Miami's big 3. Dirk would take several pay cuts over the course of his career to leave cap space for the Mavs to bring in help, though that never came to fruition. Most think Cuban will make sure Dirk gets his money another way.
Fun Facts:
Was a ranked tennis player in his youth and switched to basketball because he got tired of being made fun of for his height.
6th all time in total points
17th in total playoff points
16th in playoff ppg
50-40-90 club
First European to start an all star game
First European MVP
Highest scoring foreign born player
Only player to score 31k, 10k reb, 3k ast, 1k stl, 1k blk, and 1k 3's.
Only player to ever play 21 seasons with one team
---
19. Bob Cousy
GOAT Points: 453
Nicknames: Cooz, Houdini of the hardwood
Height/Position: 6'1" PG
Hometown: New York, New York
College: Holy Cross
Playing years: 1950-1970 (retired from 63-69), only played 7 games in 70 as a publicity stunt
Currently: Still residing in Massachusetts, active with the Hall of Fame
Teams: Celtics, Cincinnati Royals 
Accolades: Hall of Famer, 13 time All-Star, 8 time Assist Champ, 10 time All-NBA 1st, 2 time All-NBA 2nd, 1957 MVP
Bibs accolades: 7 All-defensive 1st, 2 time Finals MVP (1957 and 1961)
Rings: 1957, 1959-1963 Celtics
Story: In college he got in trouble for his flashy "streetball" play: behind the back dribbling, no look passes. It wasn't until his Senior year, when fans chanted for him to get into a game, that the coach put him in. He lead a comeback and hit a buzzer beater for the win. That day, he became the man on the team.
Initially drafted 3rd by the Tri-cities blackhawks, he refused to report and was later picked up by the Celtics.
Claim to fame?: Created the NBPA in 1954 (prior to this NBA players had no health benefits, pension, minimum salary, and the average salary was 8k. He was the President until 1958). Considered the first great PG in the NBA. As a player he was known for his eye catching ball handling and unorthodox passing. He is credited with birthing Pistol Pete and Magic. He's also credited with raising the profile of the league and the Celtics.
He was also well known for his public stance against racism, a product of growing up in a mixed race area of New York City.
Fun Facts:
Number 14 retired by Celtics
17 retired by Holy Cross
Won 8 of the first 11 Assist titles.
Cousy's father fought for the German army in WWI
After winning the famous 1962 finals, he threw the ball high into the rafters. A moment that is noted in NBA history.
---
18. Jerry West
GOAT Points: 455
Nicknames: Mr. Clutch, The Logo
Height/Position: 6'3" PG/SG
Hometown: Chelyan, WV
College: West Virginia
Playing years: 1960-1974
Currently: Working in the Clippers front office.
Teams: Los Angeles Lakers
Accolades: Hall of Famer, 14 time All-Star, 10 time All-NBA 1st, 2 time All-NBA 2nd, 4 time All-Defensive 1st, 1 time All-Defensive 2nd, 1969 Finals MVP (in a loss), 1970 Scoring Champ, 1972 Assist Champ
Bibs accolades: None
Rings: 1972 Lakers
Story: His mid-range jumper became his signature and, with no 3 point line, one of the nicknames he had was "Mr. Outside" In college he was a stud. Taking WV to the Final where they lost to Cal by 1 point, he was still named tournament MOP. ( a theme that would follow him to the NBA)
He was drafted by the Minneapolis Lakers but they immediately moved to Los Angeles. They hired his college coach and the coach moved him from SF to guard. The Lakers would reach the finals multiple times and west would dominate but it wouldn't be enough to beat the Russell and Havlicek led Celtics. Size just kept beating the Lakers speed. Until 1968 when the Lakers traded for Wilt. That year in the Finals West injured his hamstring in Game 5 and limped through the last two games, in game 7 he led a comeback and finished with a 40 point triple double in a loss, he became the only player to ever win Finals MVP in a losing effort.
In the Finals the next year he hit a 60 footer at the end of game 3 but it only counted for two points so it sent the game to OT. It's one of the greatest moments in NBA history but West got hurt in OT and they lost that game.
Claim to fame?: The ability to be a playmaking PG or a scoring SG and a two-way player. Lightning quick release and a clutch performer. Great ballhawk, and a shot blocker for a guard.
Was known to always keep working harder and was never satisfied. He also allegedly had bounce and could reach 16 inches above the rim.
Fun Facts:
Had a very thick appalachian accent and high pitched voice. Elgin Baylor called him Tweety Bird.
His intensity could be described as the early version of the Mamba mentality.
Highest ppg in a playoff series at 46.3 in 1965
3rd all time in playoff ppg 29.1
5th all time in career ppg 27 ppg
9th in playoff total points
Only player to officially win Finals MVP despite losing.
44 retired by the Lakers and WV
8 time Champion as an executive, executive of the year in 1995 and 2004.
His silhouette is the nba logo
---
17. Moses Malone
GOAT Points: 513
Nicknames: Chairman of the Boards
Height/Position: 6'10" C
Hometown: Petersburg, VA
College: Straight out of high school
Playing years: 1974-1995
Currently: Died in 2015 at the age of 60
Teams: Utah Stars, Spirits of St. Louis, Buffalo Braves (all 1 year), Houston Rockets, 76ers, Washington Bullets, Hawks, Bucks, Spurs
Accolades: Hall of Famer, 13 time All Star, 6 time Rebound Champ, 3 time MVP (1979, 1982 and 1983), 4 time All-NBA 1st, 4 time All-NBA 2nd, 1 All-defensive 1st, 1 All-Defensive 2nd, 1983 Finals MVP
Bibs accolades: 1 Finals Runner-Up MVP (1981, with the Rockets)
Rings: 1983 with the 76ers
Story: His high school team went undefeated his last two years winning both titles and he initially was supposed to go to Maryland for college, however after being drafted in the 3rd round of the ABA draft, he opted to go straight to the pros. The NYT called him the first high schooler in modern basketball to go directly to the pros.
Claim to fame?: A dominant and relentless rebounder. Known for rebounding and scoring off his own misses. (some accused him of stat padding)
Fun Facts:
No 2 retired by 76ers, number 24 by the Rockets
46th all time in playoff points per game
9th all time in total points
Most offensive rebounds all time

For a single season, for a career, and for a game (21)

3rd all time in rebounds
Only player to average 20 and 10 for 4 different teams.
---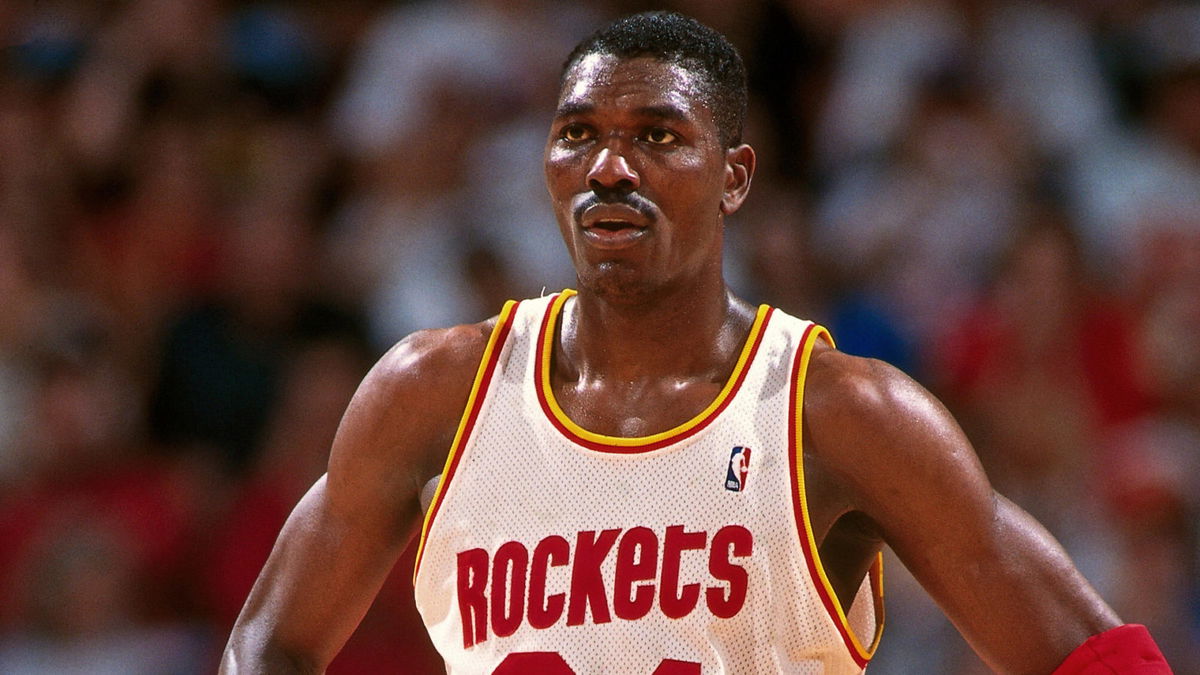 16. Hakeem Olajuwon
GOAT Points: 541
Nicknames: The Dream, Little Moses
Height/Position: 7'0" Center
Hometown: Lagos, Nigeria
College: Houston
Playing years: 1984-2002
Currently: Still around the game lending advice to today's bigs
Teams: Houston Rockets, Toronto Raptors (last season)
Accolades: Hall of Famer, 12 time All-Star, 2 time Rebounding Champ, 3 time Block Champ, 2 time Defensive Player of the Year 1993 and 94, 6 time All-NBA 1st, 3 time All-NBA 2nd, 3 time All-NBA 3rd, 5 time All-Defensive 1st, 4 time All-Defensive 2nd, 2 time Finals MVP 1994 and 1995, 1994 MVP
Bibs accolades: 1 Finals Runner-Up MVP (1986 loss to the Celtics)
Rings: 2 1994 and 1995 with the Rockets
Story: The number 1 pick in the 1984 draft, he was picked ahead of Michael Jordan and Charles Barkley. His two finals wins in the NBA were over the Knicks and Patrick Ewing who had beaten him for a title in college, and Shaquille O'Neal's Magic. Shaq famously said that Hakeem was his least favorite opponent.
Claim to fame?: Versatility on both sides of the ball. Nimble, soft touch inside, fakes and spin moves "Dream shake." The strength to bang with bigs and speed to guard smaller players. Hakeem actually said that the Dream shake was one of his soccer moves that he translated to basketball. (He was a goalie until he picked up basketball at 15.)
Fun Facts:
The last player to win MOP of the tournament from the losing team.
12th all time playoff ppg
15th all time in total playoff points
13th all time in total points
No 34 retired by Houston Rockets and Cougars
Only player to ever record 200 steals and 200 blocks in the same season*
One of only 4 players to pull off a quadruple double* (1973-74 steals and blocks)
Only player to win MVP, DPOY, and Finals MVP in one year.
When asked if the big man is dying Hakeem said "for a big man that is just big, maybe. But not if you play with speed, with agility. It will always be a big man's game if the big man plays the right way. On defense the big man can rebound and block shots, on offense he draws double teams and creates opportunities. He can make it easier for the entire team.
Trained with Moses Malone after his freshman year of college at Houston.
---
15. Kevin Durant
GOAT Points: 554
Nicknames: Durantula, KD, Slim Reaper
Height/Position: 6'10" SF
Hometown: D.C.
College: Texas
Playing years: 2007- Present
Currently: Player for the Brooklyn Nets
Teams: Seattle Sonics, OKC Thunder, Golden State Warriors, Brooklyn Nets
Accolades: 10 time All-star, 2008 ROY, 6 time All-NBA 1st, 3 time All-NBA 2nd, 2014 MVP, 4 time Scoring champ, 2 time Finals MVP
Bibs accolades: 1 Finals Runner-UP MVP in 2012
Rings: 2 with the Warriors in 2017 and 2018
Story: One of the famous one and done players that was immediately good. He got the Thunder to the Finals alongside Russell Westbrook in 2012 but after not being able to get back, including famously losing to the Warriors in the WCF after leading 3-1, Durant took the "if you can't beat them, join them" approach and won two titles. With his rings secured, Durant headed out East to see if he can prove that he can win without a stacked team. At 32, he is on the back end of his prime so it will be interesting to see if his game changes at all.
Claim to fame?: Known for his scoring ability. One of two players to win 4 scoring titles in a 5 year span. Finished 2nd in MVP voting 3 times.
Fun Facts:
Member of the 50-40-90 club (2013) (only 7 members)
Number 35 retired by Texas
4th in playoff ppg
6th in career ppg
11th in total playoff points
5% owner of the Philadelphia Union of the MLS
Currently working on a show with Apple tv.
---
14. Bob Pettit
GOAT Points: 612.33
Nicknames: Big Blue
Height/Position: 6'9" Center/PF
Hometown: Baton Rouge, LA
College: LSU
Playing years: 1954-1965
Currently: Enjoying retirement after a successful career in banking
Teams: Milwaukee Hawks, St. Louis Hawks
Accolades: Hall of famer, 11 time All-Star, 1955 ROY, 2 time Scoring Champ 1956 and 59, 1956 Rebound Champ, 1956 and 1959 MVP, 10 time All-NBA 1st, 1 All-NBA 2nd
Bibs accolades: 1958 Finals MVP, 4 All-Defensive 1st, 4 All-Defensive 2nd
Rings: 1958 St. Louis Hawks
Story: Signed an $11k contract as a rookie in 1954, a record at the time. Small frame had him moved from C to F his rookie year. Averaged 27.9 and 20.3 in the 1961 season. One of 5 players to average over 20 rebounds in a season, and one of 3 (Wilt and Jerry Lucas) to have a 20-20 season.
Claim to fame?: Prolific offensive rebounder. Adjusted his game to get to the line more. Said he wanted all of the easy points. (putbacks and free throws)
Fun Facts:
Won the first official MVP
No 9 retired by the Hawks, 50 retired by LSU
14th all time in playoff ppg
8th all time in career ppg
3rd all time in career rpg (behind only Wilt and Bill Russell)
First player to break 20k points.
Was an all star every year of his career
Averaged 20 and 12 minimum his entire career
Only player to average

over

20 a game every season they played besides Groza (who only played two seasons, Jordan averaged exactly 20 his last season)
He retired at 32 after missing 30 games due to injury in his last season.
---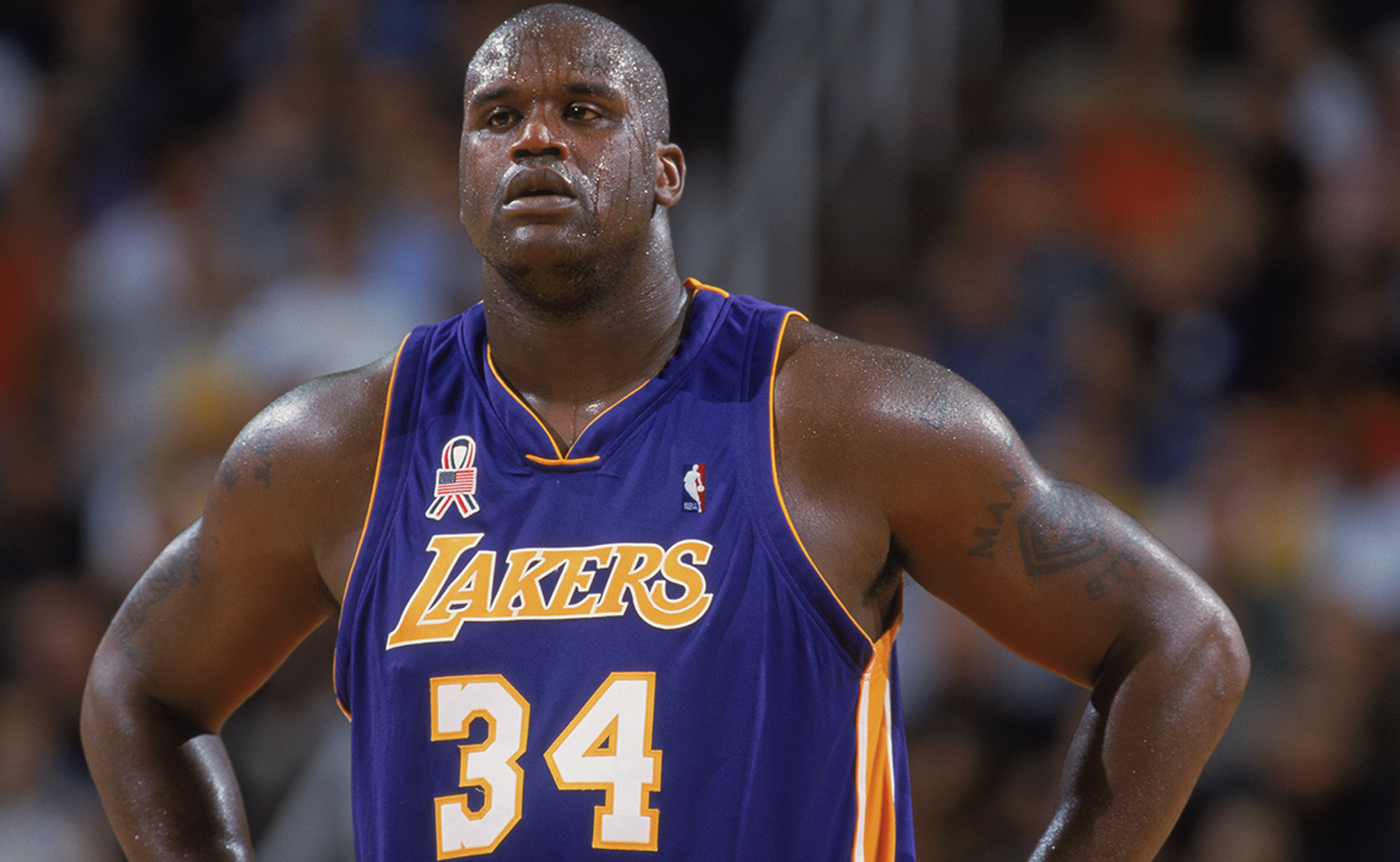 13. Shaquille O'Neal
GOAT Points: 616.18
Nicknames: Shaq, Diesel, The Big Aristotle
Height/Position: 7'1" Center
Hometown: Newark, NJ. High school in Texas.
College: LSU
Playing years: 1992-2011
Currently: Part of the Legendary NBA on TNT crew
Teams: Magic, Lakers, Heat, Suns, Cavaliers, Celtics
Accolades: Hall of Famer, 15 time All-Star, 1993 ROY, 2 time Scoring Champ (1995, 2000), 8 time All-NBA 1st, 2 time All-NBA 2nd, 4 time All-NBA 3rd, 3 time All-Defensive 2nd, 2000 MVP, 2000-2002 Finals MVP
Bibs accolades: 2 time Finals Runner-Up MVP. 1995 and 2004
Rings: 4 2000-2002 Lakers, 2006 Heat
Story: A force from Day 1 Oneal took the Magic to the Finals in just his 3rd year, but after his 4th season he left for the Lakers saying he felt like a big fish in a dried up pond due to the lack of privacy. There were several polls that made it appear that the fans didn't want him back so he obliged. Shaq also learned that Penny didn't want him to make more money than him. He won 3 championships in LA before tensions between he and Kobe and the front office led to him being traded to the Heat in 2004.
Claim to fame?: One of the largest players ever (325 pounds) and considered one of the most dominant forces the league has seen. After he broke two backboards his rookie year, the league changed the backboard supports. He's also a platinum recording artist.
Fun Facts:
34 retired by Lakers, 32 retired by Heat, 33 retired by LSU
25th all time playoff ppg
23rd all time career ppg
5th all time playoff total points
10th all time total points
One of 3 players to win MVP, All star game MVP, and Finals MVP the same year. Willis Reed and MJ (twice)
Notoriously bad FT shooter. 0/11 from the FT line is still a record for most misses without a make
When he won the MVP in 2000 he was one vote away from being unanimous. Fred Hickman of CNN chose Iverson.
In his first year with the Heat he finished behind Nash in MVP voting in one of the closest races in NBA history.
Phil Jackson pointed out that Shaq underachieved and said he wasn't a worker. Should have been MVP 10 times.
---
12. Karl Malone
GOAT Points: 638.17
Nicknames: The Mailman
Height/Position: 6'9" PF
Hometown: Summerfield, LA
College: Louisiana Tech
Playing years: 1985-2004
Currently: Spends his time hunting and fishing. Has several businesses as well
Teams: Utah Jazz, Lakers
Accolades: Hall of Famer, 14 time All Star, 11 time All-NBA 1st, 2 time All-NBA 2nd, 1 All-NBA 3rd, 3 timeAll-Defensive 1st, 1 All-Defensive 2nd, 2 time MVP 1997 and 99
Bibs accolades: 2 Finals Runner-Up MVP in 97 and 98
Rings: None
Story: He missed his freshman year of college due to academic issues but would later take Louisiana Tech to their first ever NCAA tournament in 1984. He went 13th in the draft but was so convinced the Mavs would take him at 8 that he had gotten an apartment in Dallas. In the NBA Malone did a lot of finishing second. To Jordan in scoring most of his career and then to him in the Finals, twice. Before the shot that won the Bulls the title in 98, Jordan had actually stolen the ball from Malone.
Claim to fame?: His consistency. His nickname (The Mailman) is a reference to his consistent delivery. His elbows. He once elbowed Isiah Thomas so bad he needed 40 stitches.
Fun Facts:
32 retired by Jazz and Louisiana Tech
21st all time playoff ppg
12th all time in career ppg
7th all time in total playoff points
2nd all time in total points
Most FT attempts and makes
Made the playoffs every year of his career.
---
11. Kobe Bryant
GOAT Points: 665.84
Nicknames: Black Mamba
Height/Position: 6'6" SG
Hometown: Philadelphia
College: Straight out of high school
Playing years: 1996-2016
Currently: Tragically passed away January 26th, 2020.
Teams: Lakers
Accolades: Hall of Famer, 18 time All-Star, 11 time All-NBA 1st, 2 time All-NBA 2nd, 2 time All-NBA 3rd, 9 time All-Defensive 1st, 3 time All-Defensive 2nd. 2 time scoring champ 2006 and 2007, 2008 MVP, 2 time Finals MVP in 2009 and 2010
Bibs accolades: 1 Finals Runner-Up MVP (2008)
Rings: 5 2000-2002, 2009 and 2010 all with the Lakers
Story: He was an All-star in his second year and went on to be named to 18 straight. Teaming with Shaq the two won 3 straight rings in 2000-2002 before tensions within the organization led to Shaq being traded to the Heat. The years between Shaq leaving and the arrival of Pau Gasol were some of Kobe's best statistically, though they didn't have much success as a team.
In the 2007-2008 season Kobe requested to be traded and rescinded it twice, he was also heard saying that Bynum should be traded for Kidd on a hot mic. With the newly acquired Pau Gasol that year the Lakers were back in contention. After losing the Finals in 2008, they won in 2009 against the Magic, and got revenge on the Celtics in 2010. It was the first time the Lakers beat the Celtics in the Finals and Kobe called it his most satisfying title.
He wanted a 6th ring badly to tie Michael but it was not to be. Swept by the Mavericks in the 2011 playoffs. They would lose again in the second round in 2012. Late in the 2013 season Bryant tore his achilles. The remainder of his career would be plagued by injuries and missing the playoffs. In his final season he asked that there be no tributes but that wasn't going to happen. He was actually stunned by the cheers from fans who had booed him all his career.
Claim to fame?: One of the most complete players in NBA history. Often compared to Jordan who he emulated. Was selected as the player GM's would want to take the shot 10 years in a row. His shot selection and even his defensive accolades are questioned to a degree but no one questioned his work ethic. The Mamba mentality.
Fun Facts:
Won an Oscar for best animated short with "Dear Basketball" in 2018
He made many appearances in tv and film throughout his career
Had taken to promoting the women's game and was a fierce advocate for their players.
No 8 and 24 retired by Lakers
13th in playoff ppg
13th in career ppg
4th in total playoff points
4th in total points
First player with 30k points and 6k assist
One of 4 with 25k points, 6k rebounds, 6k assists
81 point game is the second most scored in a single game in NBA history
24, 50-point games is 3rd behind Jordan and Wilt
18 all star games is second all time behind Kareem
First guard to play 20 seasons.
2nd in total All-Defense selections
Tied with Jordan, KG, and Gary Payton for first with 9 first team All-Defense selections
The All Star game MVP will be named after Kobe going forward. He tied Bob Pettit for the most All Star MVP wins.
For More GOAT series content, check below!