Finally, the one you've been waiting for. After weeks of leaking the list slowly, the top 10 Greatest NBA Players of All Time is here!
Note: Stories have been significantly trimmed down for the written format. If you want more info, you can stream the series on the podcast. (Pro tip: if you're looking for a specific player, listen on anchor and it will tell you when you are in each player's section.)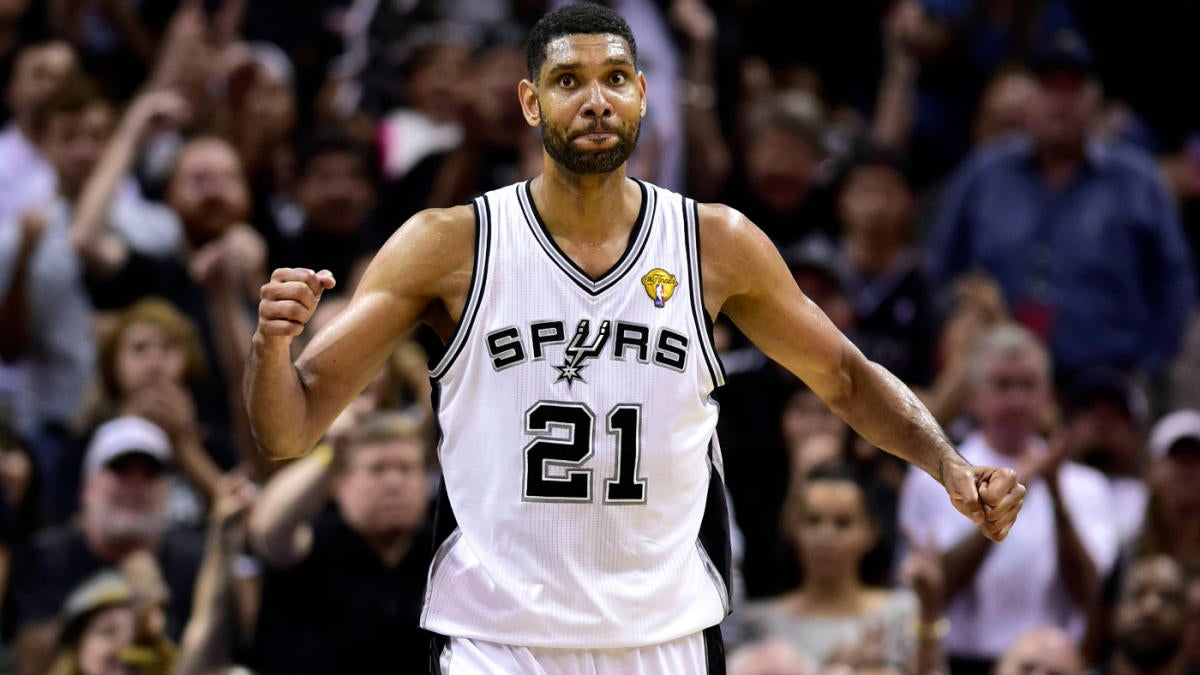 10. Tim Duncan
GOAT points: 672.84
Nicknames: The Big Fundamental, Timmy
Height/Position: 6'11" C/PF
Hometown: St. Croix, U.S. Virgin Islands
College: Wake Forest
Playing years: 1997-2016
Currently: Recently stepped down from his position as a Spurs assistant coach
Teams: Spurs
Accolades: Hall of Famer, 15 time All-Star, 1998 Rookie of the Year, 10 time All-NBA 1st, 3 time All-NBA 2nd, 2 time All-NBA 3rd, 8 time All-Defensive 1st, 7 time All-Defensive 2nd, 2 time MVP 2002 and 2003, 3 time Finals MVP 1999, 2003, 2005
Bibs accolades: 1 Finals Runner-Up MVP (2013)
Rings: 5 with the Spurs 1999, 2003, 2005, 2007, 2014
Claim to fame?: One of the most consistent players in NBA history. Boring but great. Trademark bank shot.
Story: Duncan was the youngest of 4 kids. His two older sisters were great swimmers, with one competing in the Olympics in 1988. He wanted to follow in their footsteps before fate intervened and the only Olympic-sized pool in Saint Croix was destroyed by a Hurricane. Forced to swim in the ocean, his fear of sharks made him lose passion for the sport.
The year before Duncan joined the Spurs they went 20-62 due to major injury issues. He paired with David Robinson to form the "Twin Towers." He pulled down 22 boards on Dennis Rodman that year and after Charles Barkley faced him he said. "I have seen the future and he wears number 21." He won the rookie of the month every month that year, was an All star, All NBA 1st and All Defensive 2nd in that first year. There were disappointments along the way but the Spurs remained a threat in the West throughout the next 17 years.
Fun Facts:
21 retired by the Spurs and Wake Forest
6th in total playoff points
Degree in psychology played into how he rarely showed emotion on the court.
Only player to be named to the All-NBA and All-Defensive teams in each of his first 13 seasons.
Officially only Jordan and Lebron have more Finals MVP wins. Tied with Shaq and Magic with 3. (Moses Malone, Neil Johnston, Kareem, Bill Russell, Mikan- technically matched or had more but some were ABA and some pre-dated the award)
Oldest player to have a 20-20 game.
One of 2 players to win titles in 3 different decades.
---
9. Larry Bird
GOAT points: 696
Nicknames: Larry Legend, The Hick from French Lick, The Great White Hope
Height/Position: 6'9" PF/SF
Hometown: West Baden, Indiana, High school in French Lick
College: Indiana State
Playing years: 1979-1992
Currently: Retired from the game and the front office.
Teams: Celtics
Accolades: Hall of Famer, 12 time All-Star, 1980 Rookie of the Year, 9 time All-NBA 1st, 1 All-NBA 2nd, 3 time All-Defensive 2nd, 3 time MVP 1984-1986, 2 time Finals MVP (1984 and 1986)
Bibs accolades: ⅔ of a DPOY share (½ in 1981, ⅙ in 1980), ½ a Finals Runner-Up MVP 1987
Rings: 3 1981, 1984, 1986
Claim to fame?: One of the most clutch big game performers in NBA history. One of the best shooters of all time. Also a legendary trash talker.
Story: Bird was actually drafted by the Celtics in 78 but elected to go back to school for his senior year, so when he met Magic he already knew he was a Celtic. Auerbach initially said he was going to pay Bird the lowest salary of any player on the roster when he arrived but Bird's agent said that he would just enter the '79 draft then (where he would have been a higher pick). Auerbach backed down and made him the highest paid rookie of all time (at that point). (5 years, 3.25 mil). The Bird collegiate rule came into effect at that point. NBA teams were no longer allowed to draft players before they were ready to sign. His rookie year the Celtics improved their win total by 32 games and won the East.
They made it to the conference Finals his first 4 seasons, winning the title in his second year but losing the other 3. The next two years they met the Lakers in the Finals, winning the first and losing the second. The next offseason, Bird hurt his back shoveling his mother's driveway (it would bother him the rest of his career). However, the 85-86 Celtics, after acquiring Bill Walton are regarded as one of the greatest teams in NBA history, some say the greatest. Bird won his 3rd straight MVP and closed out the finals with a triple-double, nearly averaging one for the series. The following season Bird faced Magic one more time and lost. Losing the career series 1-3 (including college).
Fun Facts:
Bird is of Irish, Scottish, and Native American (on both sides) descent
He played in one baseball game at Indiana State was 1-2 with 2 RBI
No 33 retired by Boston and Indiana State
2 time 50-40-90 club member (the first two do it, 3 came into play the year he joined the league)
32nd All-Time in Playoff PPG
17th All-Time in Career PPG
13th All-Time in Career Total Playoff points
Only player to win 3 straight MVP's besides Wilt and Bill Russell (Mikan and Neil Johnston unofficially). He finished 2nd 4 times also.
NBA coach of the Year in 1998
NBA Executive of the Year in 2012
Only person to win MVP, COY, and EOY
---
8. Earvin "Magic" Johnson
GOAT points: 711
Nicknames: Magic
Height/Position: 6'9" PG/SG
Hometown: Lansing, MI
College: Michigan State
Playing years: 1979-1996 (missed 4 seasons from 91-95)
Living?: Stepped away from the game recently but enjoys watching and tweeting about it. Successful businessman.
Teams: Lakers
Accolades: Hall of Famer, 12 time All-Star, 4 time Assist Champ, 2 time Steal Champ, 9 All-NBA 1st, 1 All-NBA 2nd, 3 time MVP (87, 89, 90), 3 time Finals MVP (80, 82, 87)
Bibs accolades: 2 Finals Runner-Up MVP 1984 and 1991
Rings: 5 1980, 1982, 1985, 1987 and 88
Claim to fame?: Considered the Greatest PG of all time (list confirms)
Story: Drafted first overall, he was paired with Kareem who- at that point, had never won a ring. After a rookie year that saw him named an all-star starter, Magic stepped up and played Center in game 6 of the Finals after Kareem went down, scoring 42-15 and 7 assists. He became the only rookie to ever win Finals MVP. After his second year he signed a 25-year, 25 million dollar contract (highest paying contract in sports history at the time. Johnson went on to see 8 more Finals, winning 4, losing one after getting injured in game two of the series and the other 3 straight up.
After losing in the Finals to the Bulls, Johnson found out during a physical in November of 1991 that he had HIV. He was forced to retire and became very outspoken about how he contracted the disease. At the time it was thought to only affect the gay community. Came back to play in the All-Star game (where he had 25-9-5 reb and won MVP) but retired again after players (including Karl Malone) spoke out. He returned for 32 games in 1996 (he was 36 by then). He later said that knowing what he knows now, he wished he had never retired. At the time he was worried about his presence hurting the game.
Fun Facts:
One of three players to do 700 points, rebounds, and assists in a season (Wilt, Big O)
16th in total playoff points
1st All-time in career assists per game 11.2
No. 32 retired by the Lakers, No 33 by Michigan State
He coached the Lakers in 93-94 and his coach contract had no salary since he technically still had a player contract. He only coached 16 games (5-11)
5 time champion as an Exec (Kobe years, 2000-2002 and 2009/10)
Part owner of the LA Sparks and Dodgers (both won rings since he's been an owner)
Won a Grammy for Best Spoken word album in 1993
Most assists in a playoff game (24)
Most assists in a Finals game (21)
Only player to average 12 assists in a Finals series (6 times)
138 triple double's second only to the Big O
Bird vs. Magic
Magic and Bird came to the league after a decade of declining interest and ratings. It is said that the pair saved the league from bankruptcy. They became good friends in 1984 while shooting a converse commercial about their rivalry. With the pair, you had a white guy and a black guy, showtime of Los Angeles vs the blue collar grit of Boston, The city boy and the country boy, the Lakers and Celtics. It was perfect. Interestingly enough, both had their careers prematurely cut short as well. Bird because of his back, and Magic due to the HIV stigma.
---
7. George Mikan
GOAT points: 816
Nicknames: Mr. Basketball, Big Mike, The Monster
Height/Position: 6'10" Center
Hometown: Joliet, Illinois
College: DePaul
Playing years: 1948-1956 Retired for the 1954-55 season before coming back for the last year
Currently: Passed away in 2005 at the age of 80
Teams: Minneapolis Lakers
Accolades: Hall of Famer, 4 time All Star, 3 time Scoring Champ 1949-51, 1952 rebound champ (unofficial because they awarded it on total instead of per game), 1953 rebound champ, 6 time All BAA/NBA 1st.
Bibs accolades: 6 All-Defense 1st, 4 DPOY (1951-53 alone. Half in 1950 and 1954), 5 Finals MVP 1949, 1950, 1952-54, MVP in 1949, 50, and 51
Rings: 5 rings in 6 or 7 seasons depending on how you look at it) 1949,50 then 52-54
Claim to fame?: He is considered the pioneer of the modern age of basketball. The first real center. His ambidextrous hook shot is emulated with the Mikan drill. He was the first player inducted into the basketball hall of fame in 1959. He was so dominant that the league widened the lane from 6 feet to 12 feet (the Mikan rule). He's also considered one of the reasons the shot clock was introduced. His dominance around the basket in college led to the outlawing of defensive goaltending. He ushered in the era of the big man.
Ironically, as one of the founders of the ABA and its first commissioner, he also is responsible for the 3 point line that was started in the ABA and later adopted by the NBA. He's the reason for the Timberwolves existence, and he was the one who designed the ABA ball (now only seen as the money ball in the 3 point contest).
Story: He was going to be a priest. At the time tall people were thought to be too awkward to be athletes but the Depaul coach was a visionary and brought him onto the team and transformed him from a shy awkward kid to a monster. His coach made him punch a speed bag, take dancing lessons and jump rope to transform his body and mind. He was huge, intimidating, and would commit a ton of hard fouls to impose his physical presence. At the time, since tall people were chased away from basketball, they were stunned at his ability to smack shots away from the hoop (what we now know as goaltending). Before him it was never even thought to be an issue. The rule was changed to outlaw this.
His first year with the Lakers was actually in the NBL and he won MVP but those records aren't kept with NBA records. The team moved to the BAA (which is tracked with the NBA) the next year.
In the 1951 season, the Pistons went up 19-18 on his lakers and spent the rest of the game passing the ball to keep it away from him. With no shot clock this became the lowest scoring game in nba history. The shot clock came 4 years later.
He retired young partly due to injuries but also because he wanted to be with his family.
Fun Facts:
2 NBL titles in 47 and 48 (those stats aren't kept with NBA stats.
2 time NBL 1st Team
NBL MVP and scoring champ in 1948
No 99 retired by Depaul and "honored" by Lakers
27th all time in career PPG
30th all time in playoff ppg
First player to score 10,000 points
The one year of his reign where the Lakers lost in the Finals, Mikan had broken his leg. They taped it together with a plate and he kept playing but he was clearly not 100%.
---
6. Wilt Chamberlain
GOAT points: 829
Nicknames: Wilt the Stilt, The Big Dipper
Height/Position: 7'1" C
Hometown: Philadelphia, PA
College: Kansas
Playing years: 1959-1974
Currently: Passed away in 1999
Teams: Philadelphia Warriors, San Francisco Warriors, 76ers, Lakers
Accolades: Hall of Famer, 13 time All-Star, 1960 ROY, 7 time Scoring Champion 1960-1966, 11 time Rebounding Champion, 1968 Assist Champ, 7 time All-NBA 1st team, 3 time All-NBA 2nd team, 2 time All Defensive 1st team, 1972 Finals MVP, 4 time MVP 1960, then 1966-68
Bibs accolades: 2 time DPOY 1968 and 1972, 8 additional All-Defensive 1st, 1 All-Defensive 2nd
Rings: 2 1967 76ers and 1972 Lakers
Claim to fame?: 100 point game. Maybe the most impressive athlete of all time.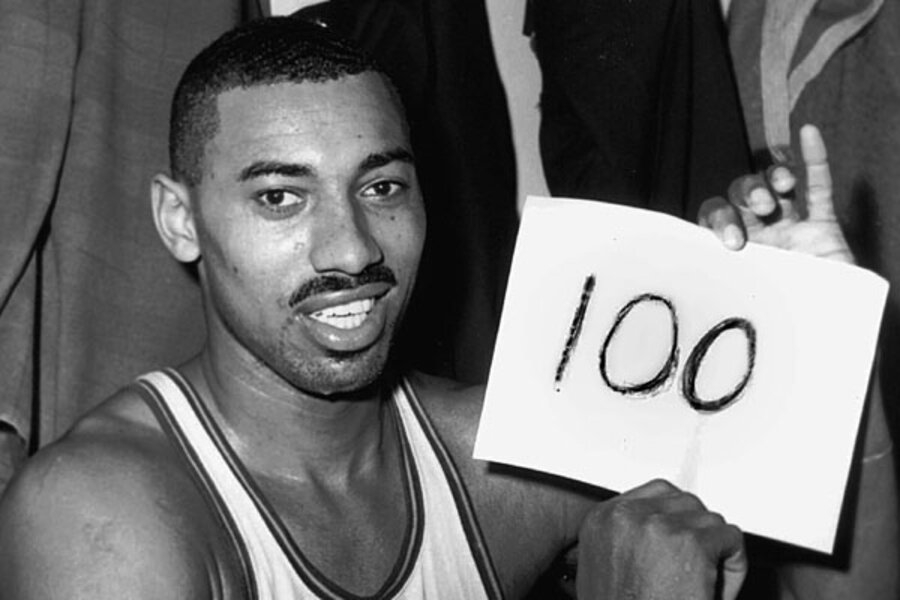 Story: Red Auerbach found him as a junior in high school and had him play Kansas' Most Outstanding Player in 1953. Wilt beat him 25-10 and made him decide against going pro. Red tried to get him to go to a school near Boston so he could select him as a territorial pick. (Team's could forfeit their first round pick to take a kid who was popular and from a 50 mile radius of their team. This happened 23 times during the 20 year span from 1946 to 1966 when the rule ended. 12 of those guys became Hall of Famers.)
Teams would often just hold the ball against him and this prompted him to leave college after his Junior year. He wrote a story about it and sold it for $10k which was more than a 1 year NBA salary. Since he couldn't go to the NBA, he spent that next year with the Globetrotters for $50k. One of the skits had him tossing a 210 pound teammate into the air like a doll.
He averaged 37.6 and 27 as a rookie and broke 8 records. After being abused during the playoffs, double and triple teamed the whole year, and being mocked as a freak of nature, Wilt considered retiring after his rookie year. Wilt's salary was raised to $65k to get him to stay in the league.
Inspired several rule changes, including widening the lane from 12 feet to 16 feet. He is the reason offensive goaltending became illegal, and he's the reason you can't inbound the ball over the backboard.
Fun Facts:
No 13 retired by Warriors, 76ers, Lakers, Kansas, and the Globetrotters
Had a 50 inch vertical. Could dunk from the free throw line off of one step. He did this when sent to the free throw line but it was soon banned by the NCAA and NBA.
He was the first player to earn $100k a year. Earned $1.5 million in his later years with the Lakers, unprecedented at the time. His mansion in Bel Air was described as a mini playboy mansion and was worth $25 mil at the time of his death.
Shortly before he died, after discussing his 20,000 women, he said that men shouldn't admire him for it. He said that having one woman 1000 times is more satisfying than 1000 women 1 time, though he never wanted or came close to marrying and never wanted to raise any kids.
He was scheduled to fight Ali in 1971 but backed out after Ali lost to Frazier due to a clause in his contract that said he could back out of if Ali lost that fight.
He reportedly broke one player's toe with a dunk in college.
Blocked a Gus Johnson dunk attempt so hard that he dislocated Gus' shoulder.
Cousy once said that if Wilt had been less concerned with being popular he would have been meaner and won more titles.
He played professional volleyball after he retired and is in the Volleyball Hall of Fame for the role he played in promoting the sport.
He remained in great shape up to the end. He notably embarrassed a rookie Magic Johnson at a practice in 1979. Larry Brown said that he had an offer to play for Cleveland in the 80's at the age of 45. The Nets tried to sign him when he was 50.
Records
42nd All time in playoff ppg
2nd All time career ppg (30.7)
20th total playoff points
7th All time in total points
1st All time in career rpg (22.9)
72 NBA records, 68 by himself.
Many of his records are considered unbreakable. The rebounds per game, 50.4 ppg in a season, 100 points in a game, 55 rebounds in a game, 65 points 15 times, 50 points 118 times.
Only player to average 30 and 20 in a season (did it 7 times)
Only player to grab 2000 rebounds in a season
Averaged 45.8 minutes a game for his career (over 48 minutes one year)
They didn't track blocks and steals during his career but sometimes statisticians would keep track of them for fun. They said he got up to 25 one night.
If you want the full list hit the link: https://en.wikipedia.org/wiki/List_of_career_achievements_by_Wilt_Chamberlain
3rd lowest FT% in NBA history at 51.1%. Claimed he missed on purpose so teammates could get rebounds and score 2 instead of 1.
Never fouled out of a game despite his rugged play (2 fouls per game)
Wilt Vs Bill Russell
Russell vs. Wilt Lost 7 of the 8 playoff series he played Bill Russell 20-29 in the playoffs, 37-57 in the regular season. Russell won all 4 game 7's with a total margin of 9 points. Statistically, Wilt averaged 30 and 28 vs him in the regular season compared to Russell's 14 and 23. And 25.7 and 28 to 14.9 and 24.7 in the playoffs. Most say Wilt was a great player but Russell did more to elevate his team. Chamberlain said that Russell didn't score as much because he had more help on offense but he had to score or his team wouldn't be competitive. That's why Russell could focus on defense. Notably, Wilt only averaged 24 and 14 points the two years he won rings. (MVP was decided by the players which is why Bill has more MVP's than All-NBA 1st). The two did not speak for 20 years after Russell criticized Wilt publicly after the 1969 Finals but they made up after Russell apologized and Russell was the 2nd person Wilt's nephew reached out to after he passed, per his instructions.
---
5. Julius Erving
GOAT points: 880
Nicknames: Dr. J, The Doctor, The Claw, Black Moses
Height/Position: 6'7" SF
Hometown: Roosevelt, NY
College: UMass
Playing years: 1971-1987
Currently: Still around the game
Teams: Virginia Squires, New York Nets, 76ers
Accolades: Hall of Famer, 16 time All-Star (5 ABA, 11 NBA. Every year of his career), 5 time All-NBA 1st, 4 time All-ABA 1st, 2 time All-NBA 2nd, 1 time All-ABA 2nd, 1 All-ABA Defensive First, 3 time ABA Scoring Champ (1973, 74, and 76), 2 time ABA-Playoffs MVP, 1974-1976 ABA MVP, 1981 NBA MVP
Bibs accolades: 1 and ⅙ of a DPOY credit (split with Bird in 1981 NBA, Split with Artis Gilmore in 1976 ABA, and 6 way split in 1980 NBA), 1 additional All-Defensive 1st (1972), 3 Finals Runner-Up MVP's 1977, 1980, 1982
Rings: 1974 and 1976 New York Nets (ABA), 1983 76ers
Claim to fame?: Known mostly for the 1976 NBA Dunk Contest- Free throw line dunk. Not the first to do it, but brought it to a national audience. A dunk on Bill Walton in the 1977 NBA Finals where he went through the entire Portland team. Of course the 1980 baseline finger roll from behind the backboard. And finally, the 1983 "Rock the Baby" dunk over Michael Cooper.
If you didn't witness it it's easy to think Dr. J was just a high flyer. I myself was guilty of this before this series.
Story: The nickname Doctor came from his childhood. He would call his buddy the professor and he would refer to him as doctor. When people started calling him Houdini and Black Moses at the Rucker, he would tell them if you're going to call me anything, call me doctor. It eventually evolved to Dr. J.
He played 2 years in college (having to sit out the freshman year of course) averaging 26.3 points and 20.2 rebounds. One of only 6 players to average 20/20 for their career. He then entered the ABA draft using the "hardship" clause.
Erving and the New York Nets won two titles in the ABA before the merger and came into the NBA ready to take the league by storm, but the Knicks sued them for $4.8 mil for invading their territory. The Nets then refused to pay Erving a salary increase they had promised him and he refused to play for them. Every team put their bid in for him and the Nets actually offered him to the Knicks to settle their dispute but the Knicks said no (one of their worst decisions in franchise history according to some). The 76ers offered them $6 mil for him and they had to accept. Had this not been done they likely would not have been able to afford their NBA merger fee. The owner later said that having to sell Erving killed the Nets as an NBA franchise. Erving and the 76ers beat the Celtics to get to the Finals that year but lost to the Blazers in 6 after going up 2-0.
Fun Facts:
No 32 retired by the Nets and UMass, No. 6 retired by the 76ers
27th All-Time Playoff PPG
21st All-Time Career PPG
8th All-Time Playoff total points
8th All-Time Total points
The only player to win MVP in the ABA and NBA
The term "being posterized" was coined to describe what he was doing to people
Before him, dunking was a move reserved for big men and was a show of strength. He bridged the gap between the old school who looked down on dunking and made it a more acceptable thing to do as a high percentage shot. Showed that it could be artistic.
He started a Busch Series team with Joe Washington that was active from 1998-2000, the first completely minority owned team in Nascar. He said he did it to try to raise interest in the sport for African-Americans.
---
4. Bill Russell
GOAT points: 1106.17
Nicknames: Russ, Whiskers
Height/Position: 6'10" C
Hometown: Monroe, LA
College: San Francisco
Playing years: 1956-1969
Currently: Retired, still around the game
Teams: Celtics
Accolades: Hall of Famer, 12 time All-Star, 5 Time Rebounding Champ 57-59, 64, and 65, 3 time All-NBA 1st team, 8 time All-NBA 2nd team, 1969 All-Defensive 1st, 5 Time MVP 1958, 1961-1963, and 1965
Bibs accolades: 5-time Finals MVP 1960, 62, 63, 65, and 66. 11 time DPOY (1958-1967, and 1969), 12 time All-Defensive 1st (This means he made this team every year of his career)
Rings: 11: 1957, 1959-1966, 1968 and 1969 matched only by Henry Richard in North American sports
Claim to fame?: The first black NBA superstar. His run as a player coach in 1966-69 made him the first black coach in North American pro sports and, of course, the first to win a title.
Story: He is credited with being part of the reason the lane was widened and why basket interference was outlawed as well.
The Celtics pursuing him was considered odd because he was a defensive guy and not a scorer but Red thought he was the defensive anchor they needed. He missed part of the season his rookie year to compete in the Olympics and only played 48 games. It was clear that the high scoring Celtics had finally secured their defensive anchor almost immediately.
The Finals loss in 57 can be somewhat attributed to the fact that Russell missed game 4 and 5 after getting injured in game 3.
During the 68-69 season Russell was word down. Between the Robert Kennedy assassination, Vietnam war, and issues with his marriage, he was tired. He was convinced the US was corrupt and that he was wasting his time playing basketball. He half assed his way through the season gaining weight and missing meetings. They upset their way through the playoffs back to the Finals where the Lakers infamously let it be known they were planning to win game 7 with balloons and celebration plans in the programs. The Celtics won by 2.
Fun Facts:
2nd in Career RPG
The only player besides Wilt to pull down 50 rebounds in a game
No 6 retired by the Celtics and San Francisco Dons
One of those other guys to average 20 and 20 in college.
Was ranked 7th best high jumper in the world his senior year of college
He initially met with the Globetrotters after college but the owner refused to speak with him directly and he was very sensitive to any prejudice, he chose to go to the NBA.
Was known for being surly with media and fans and barely signing autographs
He did not go to his Hall of fame Ceremonies
After being provoked all night by Ray Felix he complained to Red who told him to handle it himself. Russell beat Felix until he was unconscious, paid his $25 fine and nobody messed with him again.
Never averaged even 19 ppg
The NBA Finals trophy is named after him, though he never technically won one.
---
3. Kareem Abdul-Jabbar
GOAT points: 1153.75
Nicknames: Lew, Cap, Murdock
Height/Position: 7'2" C
Hometown: New York, New York
College: UCLA
Playing years: 1969-1989
Currently: Still around the game
Teams: Bucks, Lakers
Accolades: Hall of Famer, 19 time All-Star, 1970 ROY, 2 time Scoring Champ (1971 and 72), 1976 Rebound Champ, 4 time Block Champ (1975, 76, 79 and 80), 10 time All-NBA 1st team, 5 time All-NBA 2nd team, 5 time All-Defensive 1st team, 6 time All-Defensive 2nd team, 2 time Finals MVP (1971 and 1985), 6 time MVP 1971, 1972, 1974, 1976, 1977, 1980
Bibs accolades: 2.25 DPOY shares (Full in 1976, half in 1974, partial in 77, 79, and 80). 1 Finals Runner-Up MVP in 1983 (Lakers) the last year before the playoffs expanded to 16 teams.
Rings: 6 1971 Bucks. 1980, 1982, 1985, 1987 and 1988 Lakers
Claim to fame?: Trademark Skyhook shot. Unlike other dominant bigs, Kareem was skinny and not a bruiser. He used his finesse game to dominate. He could run the floor with Magic, and he hit his free throws. He said he developed the sky hook in 5th grade practicing the Mikan drill. His 6 MVP's are a league record, as are his 19 All-star games.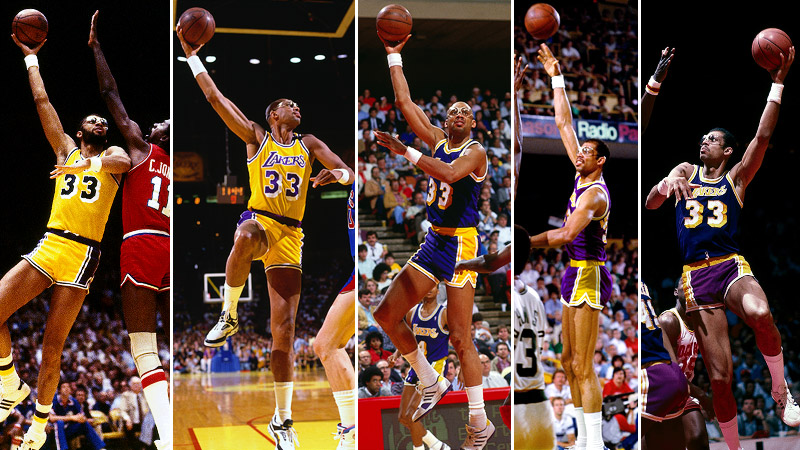 Story: He was big from day one, weighing in at 12 pounds 11 oz and was 22 ½ inches as a baby. By the eighth grade he was 6'8." His high school team won 71 straight games when he was there, 79-2 overall. His Senior year things somewhat fell apart after his coach called him the N word.
UCLA went 88-2 in his 3 years there (remember freshman couldn't play. I'll note the freshman team beat the varsity 75-60 when they played, he had 31 and 21. People joked that UCLA varsity team was #1 in the country but #2 on campus). One loss was to Houston when he had an eye injury, the other was when USC held the ball (before the shot clock). The dunk was banned after his 1st year with the varsity (would be unbanned after the 1977 season) because of him. He refused to compete in the 1968 olympics because of how African-Americans were treated in the US.
Kareem remained statistically dominant but was not having a ton of postseason success after moving to the Lakers. His Lakers were swept by Walton's Blazers when the young big man was healthy. It wasn't until Magic arrived in 1979 that things started to change for the Lakers. They proceed to go to 8 Finals during the 80's, winning 5.
Fun Facts:
No 33 retired by the Bucks, Lakers, and UCLA
24th all time playoff ppg
16th all time career ppg
3rd in total playoff points
3rd All-time in blocks (blocks began being recorded in his 4th season)
1st in career total points
Still also holds the record for field goals made and career wins.
Only player in NCAA history with 3 MOP
He publicly converted to his Islamic name the day after he won his Bucks title as Lew Alcindor
He had his cornea scratched for the second time during the preseason in 1974 and punched a stanchion, breaking his hand. When he returned he was wearing goggles.
Kareem is also one of the most outspoken athletes when it comes to matters of race and considered Wilt Chamberlain a race traitor.
---
2. Lebron James
GOAT points: 1218.67
Nicknames: King James, LBJ, Chosen One
Height/Position: 6'9" SF/PG
Hometown: Akron, OH
College: Came out of high school
Playing years: 2003-Present
Currently: Coming off of his 4th Championship and first with the Lakers
Teams: Cavs, Heat, Cavs again, Lakers
Accolades: 16 Time All-Star, 2004 ROY, 2008 Scoring Champ, 2020 Assist Champ, 13 time All-NBA 1st team, 2 time All-NBA 2nd team, 1 time All-NBA 3rd team, 5 time All-Defensive 1st team, 1 All-Defensive 2nd, 4 Time Finals MVP (2012, 13, 16, 20), 4 Time MVP (2009, 2010, 2012, 2013)
Bibs accolades: 5 Finals Runner-Up MVP (didn't get it for 2011)
Rings: 4 2012 and 13 with the Heat, 2016 Cavs, 2020 Lakers
Claim to fame?: Physically imposing from day 1. The definition of "Built Different." Many consider him the Greatest player of All-Time and he came very close to securing that title here. Some say he is a combination of Magic, the Big O, and Michael Jordan. Though criticized for it as well, Lebron is credited with shifting the balance of power in the NBA to the players.
Story: In the NBA, Lebron scored 25 points in his first game which was the most by a player straight out of high school in their debut. He became the 3rd player to average 20-5-5 as a rookie as well. Though the Cavs improved in both of his first two years, they did miss the playoffs both years. He finished 2nd in MVP voting to Steve Nash in year 3, he had a triple-double in his first playoff game.
After disastrous ends to his seasons in 2010 and 2011, Lebron said he shed the villain role he had embraced and tried to have fun again. He trained with Hakeem in the offseason to improve his post game and won his 3rd MVP that year. When Bosh went down with an injury, Lebron was forced to put the team on his back and successfully got his first title. The 2012-2013 season would see him repeat as MVP (falling one vote short of unanimous) and as a champion. His 37 points in game 7 tied the record for most points in a game 7 victory in Finals history. He got his revenge on the Spurs.
After Miami fell apart due to injuries, he returned to Cleveland and brought the first title to the city of Cleveland in 52 years.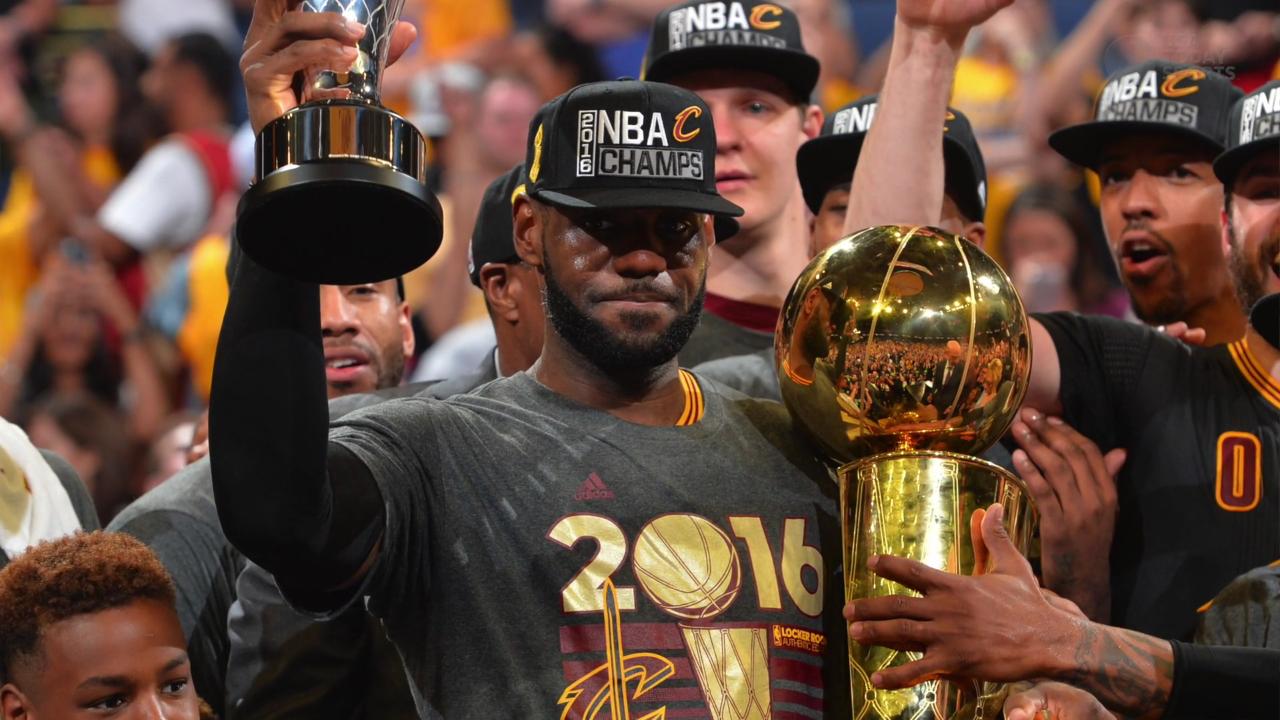 The next year in the 2016 Finals the Cavs went down 3-1 to the 73 win warriors and Lebron responded with two 41 point games and W's in games 5 and 6. In game 7 he had a triple-double and had the famous block in Iguodala. The first title in cleveland sports in 52 years and the first Finals 3-1 comeback.
Finally 2019-2020, the Lakers brought in AD and some other key vets and the team were officially contenders again. Lebron, playing more PG this year led the league in assists for the first time. The team cruised to a title in the bubble and Lebron became the first player to win Finals MVP with 3 different teams and the second oldest to win one (at 35, behind Kareem who won at 38)
Fun Facts:
5th in Playoff ppg
4th in Career ppg
1st in Total Playoff points
3rd in Total points
His 16 All-NBA selections and 13 1st team selections are both records.
The only player to bring titles to 3 franchises
Very close to passing number 1 on our list but was previously #4 before I gave him credit for being the best player on several Finals losing team.
Lebron has become a very outspoken player on topics of race and inequality, something that Jordan was criticized for not doing. And is well respected by players both active and retired.
---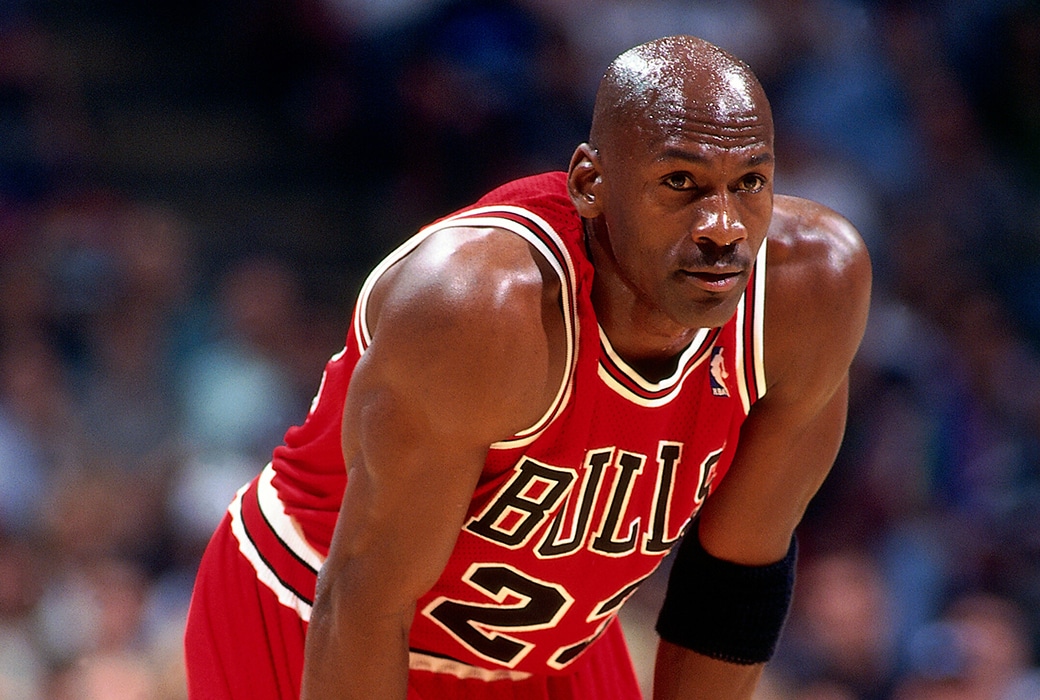 1. Michael Jordan
GOAT points: 1297
Nicknames: Air Jordan, MJ, His Airness, Black Cat, GOAT, Black Jesus
Height/Position: 6'6" SG
Hometown: Brooklyn, NY, high school in Wilmington, N.C.
College: UNC
Playing years: 1984-2003 Missing 4 full seasons due to retirement
Living?: Part owner of the Charlotte Hornets
Teams: Bulls, Wizards
Accolades: Hall of Famer, 14 time All-Star, 10 time Scoring Champ 87-93, 96-98, 3 time Steals Champ 88, 90, and 93, 1985 ROY, 1988 DPOY, 10 time All-NBA 1st, 1 All-NBA 2nd, 9 time All-Defensive 1st, 6 time Finals MVP, 5 time MVP 88, 91, 92, 96 and 98
Bibs accolades: None
Rings: 6: 91-93 and 96-98 3 peats.
Claim to fame?: A Winner, a killer, a psychopath obsessed with winning. He was a noted trash talker and his competitive drive led to many of his teammates being traded for not being tough enough. His name is synonymous with the will to win and having IT. He had a noted fadeaway jumper that most felt was unguardable because of how quick and athletic he was. Widely regarded as the Greatest of All Time and that is confirmed by this ranking. He is also credited with popularizing the NBA around the globe.
Story: There is a story about him that is mistold about him being cut in high school. He was cut from varsity as a sophomore because of his height (5'11", not because he couldn't hoop). He stayed on JV and had several 40 point games.
He played 3 years at UNC including a title in his freshman year in 1982. He actually hit the game winner in that title game. He described that shot as a major turning point in his basketball career.
Jordan averaged 28.2 ppg his rookie year and quickly became a fan favorite even in opposing arenas. He was an All-Star year 1 and the vets didn't like it. Isiah Thomas led a contingent who aimed to freeze him out of the all star game.
Jordan broke his foot 3 games into the season in year 2 and missed 64 games. The team made the playoffs with a 30-52 record (5th worst record of a playoff team in NBA history at the time.) They ended up facing the 1986 Celtics (who are in the running for the best team in NBA history as you might recall). In that series the Bulls were swept but in Game 2 Jordan set the record of 63 points in a playoff game.
In year 4, Jordan continued his scoring tear and won MVP and DPOY averaging 1.6 blocks and over 3 steals a game. The Bulls won 50 games and finally got out of the first round, only to lost in the second round to the bad boy Pistons. This would happen for the next two years in the Conference Finals.
First 3 peat
In 1990-91 Jordan won his second MVP and the Bulls won the division for the first time since the mid 70's, winning 61 games. Pippen was an All-Star this year. The Bulls met the Pistons in the conference Finals again but this time they swept them. They met Magic and the Lakers in the Finals and dispatched them in 5 games. Jordan averaged 31 points, 11.4 assists, 6.6 reb, 2.8 steals, and 1.4 blocks in the series.
In 92 the Bulls won 67 games, Jordan was MVP again, they were pushed to 7 by the Knicks in the second round but made it to the Finals where they met Drexler's Blazers. The Media wanted a Bird-Magic rivalry but Jordan wanted none of that. He had 35 in the first half of game 1 including 6 threes. This was the game where he famously shrugged going back up the court after one of his makes. He was also Finals MVP again averaging 35.8, 4.8, 6.5 ast.
In 93, Jordan continued to be a dominant scorer and finished second in DPOY voting but lost the MVP to Barkley who he met in the Finals. Paxson hit the game winning shot and Grant had a big block late in the game but Jordan averaged a Finals record 41 ppg for the series, becoming the first player to win 3 straight Finals MVP's.
People noted that Jordan was getting tired of being a massive celebrity and other problems in his life despite his success.
Jordan had gambling issues. Rumors that he was secretly suspended for them have been denied but people still believe it to this day. Officially, Jordan retired because he said he had lost his desire to play basketball. His father had been murdered in July of 1993 and this also greatly affected him. Jordan later elaborated that he was preparing for retirement as early as the summer before after the dream team run.
The game was stunned and even more so when he signed a baseball contract with the White Sox. He said that he did this because his father wanted him to play baseball. The Bulls retired his jersey in 1994, not expecting that he would come back.
Jordan went back to the lab before the next season, fresh off this loss and the team added Dennis Rodman. They started the 95-96 season 41-3 and set the record with 72 wins. (only beaten by the 2016 Warriors). He was MVP and the The Bulls lost 1 game while cruising through the East and beat the Sonics in the Finals in 6. Jordan famously cried clutching the game ball in the locker room thinking of his father.
96-97 Jordan and the Bulls won 69 games and Malone won the MVP over Jordan. Once again Jordan faced the guy who took the MVP from him in the Finals. Jordan hit a buzzer beater in game 1 and in game 5, with the series tied at two Jordan played with a stomach virus where he had a fever and was dehydrated. The flu game saw him score 38 points including hitting a 3 with 25 seconds left to win 90-88. They took the series in 6. He took home his 5th finals MVP trophy. (he had also posted the first all star game triple double in 97)
In 97-98 Jordan's Bulls dropped to just 60 wins and he got his 5th MVP award. The Pacers (coached by Bird) pushed the Bulls to 7 (the first game 7 since the 92 ECF) but they were back in the Finals to face the Jazz again. The Bulls won the series in 6 and Jordan secured his 6th Finals MVP. The 98 Finals is still the highest rated Finals in NBA history, that game 6 was the highest rated game in NBA history as well.
Jordan retired for the second time.
Fun Facts:
Number 23 retired by UNC, the Bulls and Heat (a team he never played for)
2nd All-Time in total playoff points
5th All-Time in Total points
The most Finals MVP's of any player (Russell and Mikan earned 5 for this ranking)
The most scoring titles (Wilt 7, a few with 4)
In 2014, became the first Billionaire in NBA history
Currently the fourth Richest black person in America.
In his career, Jordan was known for his clutch performances. He decided 25 games with shots or free throws in the final 30 seconds including two finals games and 5 other playoff games.
Phil Jackson compared him to Shaq saying he would get fouled on every single play and still play through it to clear himself for shots. Didn't cry, just rose to the occasion.
Records:
1st All-Time in career playoff PPG (33.45)
1st All-Time in career PPG (30.12)
He matched Wilt's record 7 straight scoring titles (before retiring the first time) and is
tied with GP, KG, and Kobe with 9 All-Defensive 1st selections
Only Kareem has more regular season MVPs
He was top 3 in MVP voting 10 times.
Jordan and Pippen are the only players since the NBA/ABA merger to win 6 titles with one team.
The NBA ratings increased only during his time in the league and have only declined after he left. They still haven't reached the level they were at when he played.
Michael Jeffrey Jordan is the GOAT.
And this concludes the G.O.A.T Series. If you missed the podcast be sure to stream those wherever you get your podcasts. Hit this (link).
What are your thoughts? Who was left off? Who is too high? Who is too low? As always sound off on twitter @BibsCorner.
-Bibs
If you missed any of the other entries hit the links below!