We're picking up where we left off and giving you players 40 through 31 of our 50 Greatest NBA players of all time list. Enjoy!
If you have reached this piece before reading the first in the series (Players 52-41) hit the link and go back!
If you need links to the Methodology, Added Awards, or Adjustments those are linked here.
40. Dolph Schayes
GOAT Points: 276.5
Nicknames: Sputnik (had a high arcing shot)
Height/Position: 6'8″ Center
Hometown: New York, New York (Bronx)
College: NYU
Playing years: 1949-1964
Currently: Died of Cancer in 2015 at the age of 87 after having a street named after him in the Bronx in May of that year.
Teams: Syracuse Nationals, 1 year with the 76ers at the end when the Nationals moved to Philly.
Accolades: Hall of Famer, 12 time All-Star, The league's first rebound champ in 1951 (not a stat before), 6 time All-NBA 1st, 6 time All-NBA 2nd.
Bibs accolades: 1955 Finals MVP, 1.5 DPOY shares, 5 All-defense 1st, 5 All-Defense 2nd
Rings: Won a ring in 1955 with the Nationals
Claim to fame?: League's first stretch big. He was tall for his time but usually went with the outside shot, that is unless you contested, then he'd punish you off the bounce.
Fun Facts:
AS a 16 year-old freshman at NYU he led his team to the NCAA final
Led his team to the playoffs in 15 of his 16 seasons.
1966 Coach of the Year with Philly.
Broke his arm one year and played the entire season in a cast, it made him ambidextrous though.
Last player to shoot a two-handed set shot, most had moved to one handed jump shots.
Record 706 games without missing one from Feb 1952 to December 1961
First player to score over 15,000 points and first ever to have 30,000 Points-Rebounds-Assists
---
39. Willis Reed
GOAT Points: 279
Nicknames: The Captain
Height/Position: 6'9" Center
Hometown: Hico, Louisiana
College: Grambling State
Playing years: 1964-1975, missed his last season due to injury
Currently: Retired from the Hornets front office in 2007.
Teams: Knicks
Accolades: Hall of Famer, 7 time All-Star, 1965 ROY, 1970 MVP, 1970 and 1973 Finals MVP. 1 All-NBA 1st, 4 All-NBA 2nd, 1 All-Defense 1st
Bibs accolades: 1970 DPOY
Rings: 1970 and 1973 Knicks
Claim to fame?: Name is synonymous with guys who play through injuries. He's mentioned in Kurtis Blow's "Basketball" and The Beastie Boys' "Long Burn the fire"
Fun Facts:
Was always a key performer in the playoffs, as indicated by his two Finals MVPs. He missed game 6 of the 1970 Finals with a torn thigh muscle but famously limped out of the tunnel to start game 7 and score the first two baskets of the game. Inspiring his team to victory.
After retiring he became an assistant coach and eventually VP of basketball operations for the Nets.
He was Senior President over the Nets team that went to the Finals in 2002 and 2003.
---
38. George Gervin
GOAT Points: 280
Nicknames: Iceman, Ice
Height/Position: 6'7" SF/SG
Hometown: Detroit, MI
College: Eastern Michigan
Playing years: 1972-1976 ABA, 1976-1986 NBA, 1 year in Italy post career
Currently: Still active in the San Antonio community
Teams: Virginia Squires, San Antonio Spurs, Chicago Bulls his last year
Accolades: Hall of Famer, 12 time All-star (9 NBA, 3 ABA), 4 time scoring champ (All in the NBA). 5 time All-NBA 1st, 2 time All-NBA 2nd, 2 time All-ABA 2nd.
Bibs accolades: None
Rings: No rings, never made the finals.
Claim to fame?: Nicknamed the Ice Man due to his cool demeanor on and off the court. Also because he wouldn't break a sweat on the court. Trademark finger roll.
Fun Facts:
Number 44 retired by the Spurs, number 24 retired by Eastern Michigan.
11th all time playoff points per game and career PPG
Initially went to school under Jerry Tarkanian at CSU Long Beach but left before the first semester was over due to culture shock.
He punched a player in a playoff game in college and was kicked off the team. He also lost an opportunity to play for the Olympic team due to this incident.
Scored 63 points in slightly more than a half of basketball, sitting most of the 3rd and all of the 4th after securing the scoring title in 1978.
MJ was mad when he was traded to the Bulls. Gervin's last NBA game was MJ's record setting 63 point playoff game.
---
37. Connie Hawkins
GOAT points: 283
Nicknames: Hawk
Height/Position: 6'8" "C/PF/SF
Hometown: Brooklyn, NY
College: Iowa
Playing years: 1967-1976, first two years in the ABA
Currently: Passed away in 2017
Teams: Pittsburgh Pipers, Minnesota Pipers, Phoenix Suns, LA Lakers, Hawks his last year
Accolades: Hall of Famer, 5 time All-Star (1 was ABA), ABA MVP and Finals MVP in 1968, 1 All-NBA 1st, 2 All-ABA 1st. Scoring title in 1968
Bibs accolades: None
Rings: ABA title in 1968
Claim to fame?: His story. (Here's a 7 minute video that talks about how he was robbed of a full NBA career). I also go into detail on the scandal on the podcast.
Fun Facts:
17th in career PPG
42 retired by the Suns
Was 25 when he joined the ABA, 27 when he got to the NBA
Spent 4 years with the Harlem Globetrotters for 1963-67 before going to the ABA
Was a legend at Rucker Park
Won the ABL's MVP with the Pittsburgh Rens during the years he couldn't join the NBA. The league folded in the middle of the 1962-63 season which is how he ended up with the Globetrotters
The last game of his rookie year in the ABA he had 44, 20, 8, 5, and 5 (5×5)
His pre-NBA life is documented in the biography "Foul" by David Wolf
---
36. Paul Arizin (Air-uh-zin)
GOAT points: 286.5
Nicknames: Pitchin' Paul or Poppin' Paul
Height/Position: 6'4" SF
Hometown: Philadelphia
College: Villanova
Playing years: 1950-1962 (2 year gap in the middle)
Currently: Died in 2006, at home peacefully
Teams: Philadelphia Warriors
Accolades: Hall of Famer, 1951 ROY (unofficially, award didn't mean anything at the time), 10 time All-Star, 2 time Scoring Champ, 3 All-NBA 1st teams, 1 All NBA 2nd
Bibs accolades: 1951 1st team All-Defense, 1960 2nd team All-Defense, 1952 MVP
Rings?: 1956 Championship with the Philadelphia Warriors
Famous for: His line drive jump shot
Fun Facts:
At Villanova, he scored 85 points one game, scored over 100 against a Juco.
After his second year in the pros he joined the marines and served in the Korean War during the 52-53 and 53-54 seasons)
The year before he left the NBA for the war he made the All-NBA 1st team.
Led the league in scoring that year with 25.4 ppg, 11.3 rpg and fg% 44.8%
When the Warriors moved to San Francisco he chose to retire. A Philly boy to the end.
---
35. Kevin Garnett
GOAT points: 288.334
Nicknames: KG, The Big Ticket
Height/Position: 6'11 PF
Hometown: Greenville, SC
College: High school
Playing years: 1995 – 2016
Currently: Enjoying retirment. Most recently appeared in the critically acclaimed film, "Uncut Gems"
Teams: Timberwolves, Celtics, Nets
Accolades: Hall of Famer, 15 time All-Star, 4 time Rebound Champ, 2008 DPOY, 2004 MVP. 4 All-NBA 1st, 3 All-NBA 2nd, 2 All-NBA 3rd, 9 All-Defense 1st, 3 All-Defense 2nd
Bibs accolades: Half a Finals runner-up MVP share 2010 (split with Rondo.)
Rings: 2008 celtics
Claim to fame?: Legendary trash talker.
Fun Facts:
Great performance in the film Uncut Gems
Only player to reach 25k points, 10k reb, 5k assists, 1500 steals, and 1500 blocks
Only player with 20, 10, and 5 assists for 6 seasons
---
34. Russell Westbrook
GOAT points: 294
Nicknames: Brodie, Russ
Height/Position: 6'3" PG
Hometown: Long Beach
College: UCLA
Playing years: 2008-Present
Currently: Playing for the Houston Rockets
Teams: OKC Thunder, Rockets
Accolades: 9 time All-Star, 2 time Scoring champ, 2 time Assist champ, 2017 MVP. 2 time All-NBA 1st, 5 time All-NBA 2nd, 2 time All-NBA 3rd
Bibs accolades: None
Rings: None
Claim to fame?: Hard driving and dunking guard
Fun Facts:
Currently 18th in playoff ppg
Currently 26th in career ppg
Currently 11th in career apg
---
33. John Havlicek
GOAT points: 301
Nicknames: Hondo
Height/Position: 6'5" SG/SF
Hometown: Martins Ferry, Ohio
College: Ohio State
Playing years: 1962-1978
Currently: Passed away in 2019 at the age of 79
Teams: Celtics
Accolades: Hall of Fame, 13 time All-Star, 1974 Finals MVP. 4 time All-NBA 1st, 7 time All-NBA 2nd, 5 time All-Defensive 1st, 3 time All-Defensive 2nd
Bibs accolades: An additional Finals MVP in 1968. 8 All-Defensive 1st, 6 All-Defensive 2nd
Rings: 8 rings with the Celtics 1963-66 (4 peat), 1968 and 1969, 1974, and 1976
Claim to fame?: Known for his stamina, competitors said it was hard to keep up with him. He revolutionized the 6th man role. Also known for his clutch steal at the end of the 1965 ECF (more details on the podcast)
Fun Facts:
17 retired by the celtics, 5 retired by ohio state
48th in career playoff ppg
14th in playoff total points
He was a key player on the first team to overcome a 3-1 deficit.
He was drafted by the Cleveland Browns in 1962 after appearing in their training camp as a wide receiver (he was a 3 sport athlete in high school)
He is the Celtics all-time leading scorer.
He was the first "swingman" SG/SF combo
He was a steal maestro and a defensive pest and it's a shame we don't have those stats tracked.
Most Finals appearances without a loss
Early investor in Wendy's fast food chains. Lived off that wealth when he retired.
---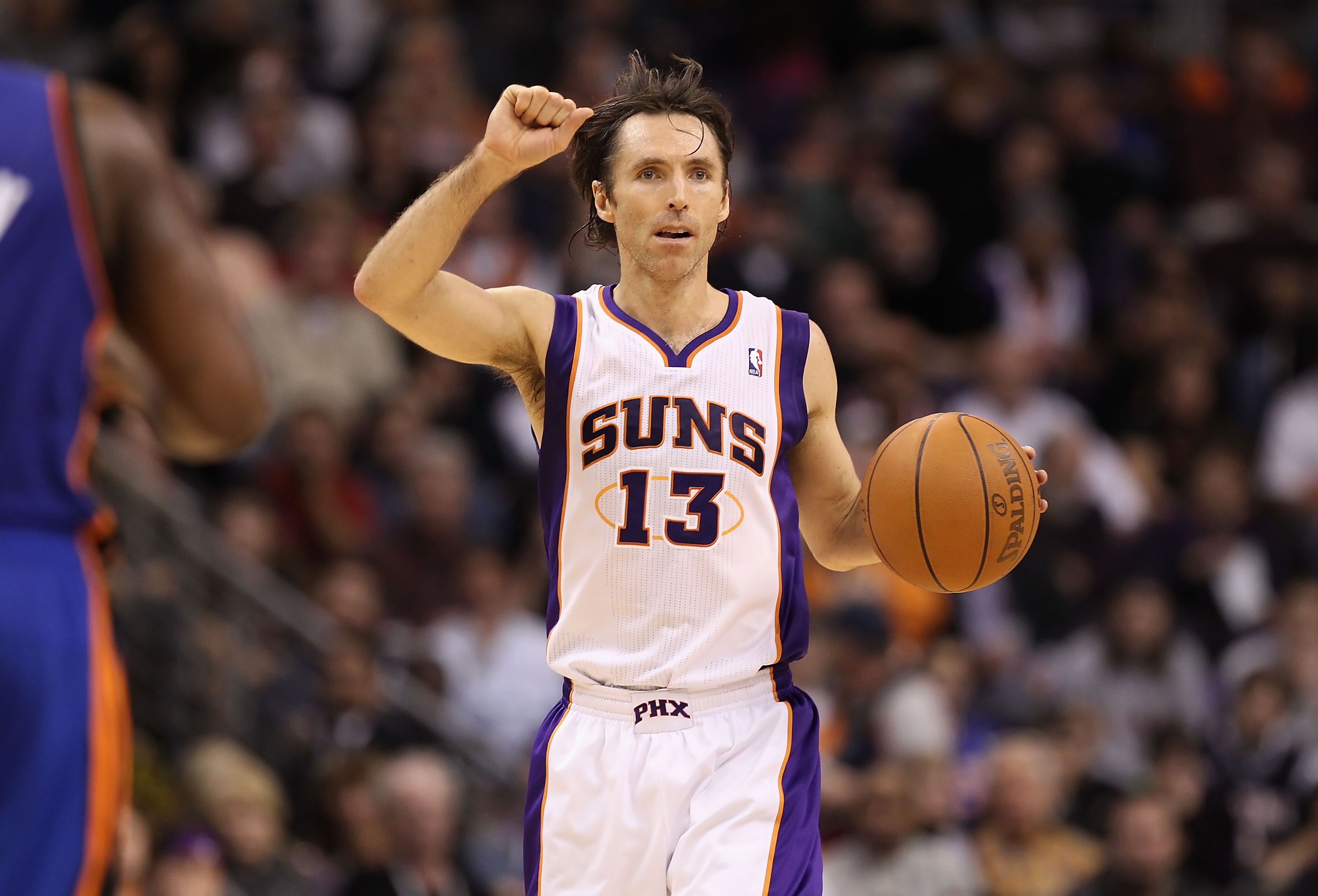 32. Steve Nash
GOAT points: 303.17
Nicknames: Nashty
Height/Position: 6'3" PG
Hometown: Johannesburg, South Africa (first foreign born player on the list), grew up in Canada
College: Santa Clara
Playing years: 1996-2014
Currently: Just hired as the coach of the Brooklyn Nets
Teams: Suns, Mavericks, Suns again, Lakers
Accolades: Hall of Famer, 8 time All-Star, 5 time Assist champ, 2 time MVP. 3 time All-NBA 1st, 2 time All-NBA 2nd, 2 time All-NBA 3rd
Bibs accolades: none
Rings: None as a player, 2 as a consultant for the Warriors
Claim to fame?: His two MVP awards were controversial.
Fun Facts:
Number 11 retired by Santa Clara
9th in career assists per game
4 time 50-40-90 club (2006, 2008-2010) Only player besides Bird to do it more than once
Co-owner of the Vancouver Whitecaps in the MLS
Didn't play basketball until he was 12 and told his mom in the 8th grade he was going to play in the NBA.
Nash was offered a 4 year deal worth 9 mil a year because Cuban didn't want to lock up a 30 year old long term while trying to build around Dirk. When the suns offered 6 years 63, Nash asked Cuban to match but Cuban did not.
---
31. Charles Barkley
GOAT points: 313.17
Nicknames: Sir Charles, The round mound of rebound)
Height/Position: 6'6" PF/SF
Hometown: Leeds, Alabama
College: Auburn
Playing years: 1984-2000
Currently: Part of an award winning NBA on TNT crew
Teams: 76ers, Suns, Rockets
Accolades: Hall of Famer, 11 time All-Star, 1987 Rebound champ, 1993 MVP, 5 time All-NBA 1st, 5 time All-NBA 2nd, 1 All-NBA 3rd
Bibs accolades: 1 Finals runner-up MVP, 1993
Rings: None
Claim to fame?: Small for his position but still a dominant rebounder.
Fun Facts:
No 34 retired by Auburn, 76ers and Suns
36th all time playoff ppg
Barkley was 5'10" 220 his junior year of high school and didn't make the varsity team. Grew to 6'4" over the Summer and was a starter as a senior. He still got no college attention until he played against the top player in the state in the state semi-finals. The Auburn assistant described him as "a fat guy who can play like the wind"
They say he is actually only 6'4"
Most offensive rebounds in a half (13)
Smallest player to lead the league in rebounds
Most free throws attempts in a series (100) 1986 EC semis
Check below for more GOAT content.